The Organ at St George's Church, Wrotham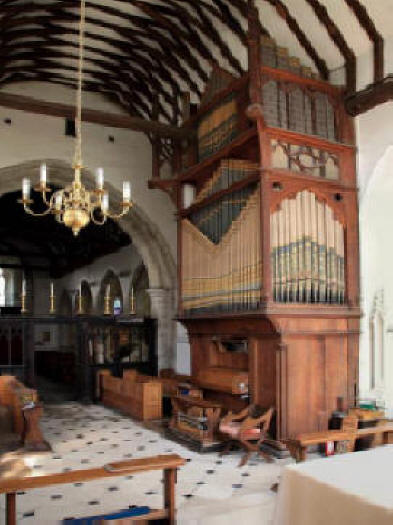 The 14 stop organ was built by Forster & Andrews of Hull in 1883 and is positioned on the north side of the chancel.
It is laid out in vertical tiers and has a flat radiating pedal-board that was replaced by Manders in 1975.
The organ is tracker action with a mechanical stop action.
The pedals have a 30 note range from C to f1, whilst the Great and Swell are 56 notes, C to g3.
The Swell is enclosed and is operated by a mechanical 'kick' pedal on the right hand side of the console.
There are 4 mechanical combination pedals,
2 for the Swell and 2 for the Great.
Pedal: Bourdon 16' & Violoncello 8'
Great: Open Diapason 8', Stopped Diapason 8', Dulciana 8', Pricipal 4', Fluto Traverso 4', Fifteenth 2'
Swell: Geigen Principal 8', Salicional 8', Voix Celeste [TC] 8', Gemshorn 8', Mixture II, Oboe 8