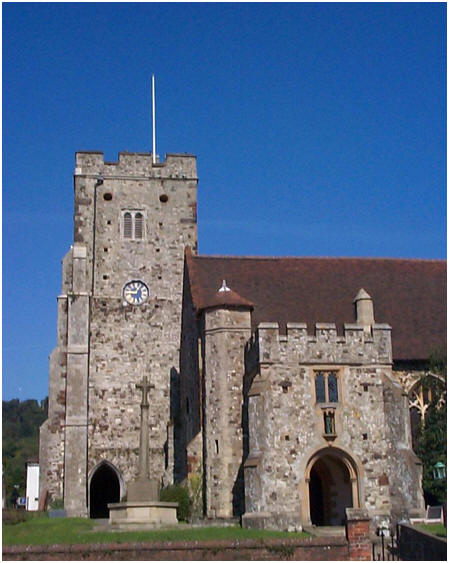 BECOME A FRIEND OF ST GEORGE'S CHURCH WROTHAM
The Church and our Heritage
Small though it is, Wrotham has been on most maps for over a thousand years; nestling under the North Downs and on the Pilgrims Way, a cluster of old cottages, an Elizabethan Manor House, an old Archbishop's Palace and a lovely 13th Century church with 9th Century foundations.
The church is at the very centre of the village and is one of the largest parish churches in Kent.
The church is something different because it belongs to us all; and our predecessors have handed us a living building of great value and usefulness. Of course we are glad that it shares with other historic buildings in making the village popular with visitors.
The church is also a special place where people come to mark significant moments in their lives, sometimes they are solitary; at other times with their friends, families or on school visits. We would like to keep it this way, in constant use.
St George's Church is much admired; visitors comment
"Beautiful proportions"
"Peaceful", "Accessible to the entire village", "Historic",
"Fine screen, font and stained glass windows"
Every church that is cherished as part of the nation's heritage is a microcosm of the history of England itself. It is our very good fortune that so much of our heritage still remains with us now the church is in its second Millennium.
Today, as ever, St George's Church is available for baptisms, weddings and funerals as well as for regular worship and private prayer. Every five years the building is thoroughly inspected by an Architect, and at the last inspection we heard a fair amount of work will be involved if we are to give our successors a building in good order. Faithful maintenance in our own times, as well as in the past, means that we are not threatened by imminent disaster. Yet it is painfully obvious that we need money to maintain the building.
A small number of people are expected to give a disproportionate amount of time, energy and money. Church members dig deep into their pockets and they make extra ordinary efforts on their own but they cannot do it indefinitely, and there is no obligation on any church organisation or outside body to provide additional resourses.
We would like to suggest that a minimum donation of £15 a year each from a larger number of people who are not regular members would go a long way towards sharing this extra burden more fairly. Church members will no doubt join in the effort too, but what we are saying is "if church members pay the running costs of the church, its ministry, maintenance and mission will everybody else help to keep the rain out?"
We are confident that there are many people in Wrotham, as well as past residents, interested relatives and visitors who would be willing to help financially to preserve this fine medieval building. Becoming a Friend of St George's Church would help preserve the fabric and furnishings of our Parish Church. We wish to make it plain that becoming a Friend does not commit anyone to church membership although everyone is welcome in our church.
To our many visitors St George's Church is an architectural treasure. To us who live in or near Wrotham it also unfolds much of our local and social history. It is part of our heritage of which we can all be justly proud.
Please help us to keep it this way.
[Click on the angel for an application form]
Best wishes,
The Friends of St George's Church.