NOVEMBER... from the Rector: Rev.Edward Wright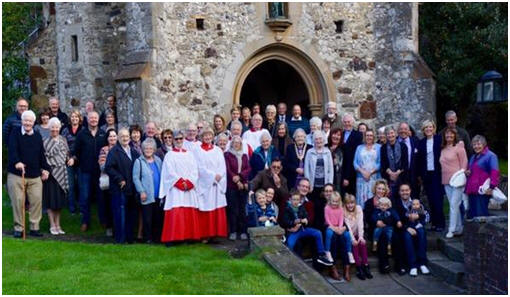 What does the word 'Church' bring to mind? For many it would be the building, while some might think of a service. The word translated as church from the Greek of the New Testament actually means 'those called out'. You could argue that 'church' was first used to refer to the group of people who met together.
So above is a photograph of St. George's Church - and we are very grateful to Michael Frazer for producing it. It is a snap shot on a particular Sunday, when some regulars were away, and others included were only visiting. That is most often the way, and so the church will always be a bit blurred at the edges.
Being blurred at the edges is appropriate for a church. It suggests openness and accessibility which are proper attributes for the group or gathering. Openness to people who are visiting for personal reasons or who maybe want to explore a little in the realm of faith. Accessibility also for those who might want to use the church as a building for a special service.
Some weeks ago I read an article discussing how much ownership a community as a whole felt for the parish church. The writer said they were one of those who might attend a service at Christmas, but not at other times. When his father died, being aware of his limited connection with the local church, he felt rather uncertain as to how his request for a funeral would be viewed. He was pleased for a kind and positive reception, and wrote that afterwards he looked at the church differently. It had become 'his' in a new way.
I wondered on reading this whether most people do not in fact realize that a local church is available for any who live in the parish , and in some cases for those beyond the parish boundaries as well.
A few days later I had a phone call: someone was asking whether it would be possible when the time came to hold a funeral service for their father in the church. It made me think it would be worth making the situation clear, just in case.
Residency within a parish gives an entitlement for a funeral service to be held for the person in the local church. This is not dependent on whether they or their family have attended services. The same applies to weddings. (In situations where either of the couple has been married before, preliminary discussion is needed)
Where there is no residency, but there is some historic link with the parish, a funeral in the church will generally be appropriate if it is wanted. And for weddings there are ways to establish what's called a 'qualifying connection' which enables people who live beyond the parish to be married in the church.
With baptisms (or 'christenings'), similar principles apply, although because of what this signifies, the expectation is built into the service that the family will have some involvement in the life of the church following the baptism.
If you are resident in Wrotham, or if you have an historic connection with the village, the building known as St.George's Church is your church. As you probably know, it is physically open every day. The Church as a group of people also seeks to be 'open'.
We look forward to opening up for special occasions, whether family ones, or those for the wider community, such as Remembrance Sunday or Christmas. You really are most welcome.